As I have transformed from size XXXXL to a Medium, I haven't been able to fund the replenishment of my wardrobe, every few months. So, I did what all frugal minds (and Scots) would do. I bought the stuff that other people could no longer fit into (and tax benefiting donations from shops). Rather than Braehead Shopping Centre, I headed off to the British Heart Foundation and instead of Silverburn, it was Save the Children.
And you wouldn't believe some of the gear that I have picked up. Brand new (with labels) Tommy Hilfiger jeans and jacket for £8 each, Nike running jackets and Adidas sweat tops for less than the cost of a coffee and a £1,000 Bally gym bag to put it all in for £10. Even now (in these days of austerity), I still pick up the odd bargain with Pilates rings, hiking poles and boxing gloves all now sitting in a cupboard just waiting for me to actually use them (I will use them, honest).
And it's not just about getting, it's giving too. During my incredible shrinking man period, I have also donated my fair share of clothing, with my old 22 inch neck shirts now being used as emergency tents in impoverished countries. Yesterday I handed in another 4 black bags full of old fat (and tat) clothes. So go through your old gear, pop down to your local charity shop and maybe pick up a bargain, while you are there. At the British Heart Foundation shop, you can even get your heart racing with some of their training gear and equipment.
I am also saving the planet, one foot at a time, while following the advice of the good people at
NICE
, who want to see more people using active travel on short journeys. In addition to getting back on my bike (recycling?),
I now run to work most days. Yes, it's the same daily route, but there's something satisfying in winning my daily game of "Race the Bus". I often wonder if any of the passengers on the bus follow my daily battle and consider trying it themselves. Or possibly they are willing the bus to beat me. Not only does it help keep me active, get me fit (help with my on-going
5×50
Challenge) and saves me bus fare, but it also gets me to work earlier (and home sooner). It gives me energy to face the day and is a nice way to wind down on the way home. And with my virtual racer on my Garmin watch, I also get to try and beat myself most days (and not just for eating that Mars bar). As the weeks pass, I can feel myself getting stronger and slightly faster. Climbing West Nile Street is not as tough and I am even, on the way home to Langside, running up the steps in Queens Park a la Rocky style (no, not ripped like Rocky, just wearing similar ripped second hand clothing).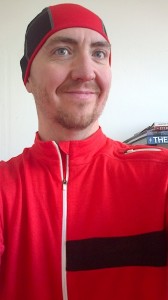 On that that note, if, like me, you are also sporting some well-loved running gear and are a commuter by footer then you might be interested in
Ashmei's #RunCommute competition
where you can win some of their amazing running gear (I never ever find their clothing in charity shops). I have recently treated myself to a couple of tops (they were doing a BOGOF), hat and a sock for my right foot (get the left when next month's pay check arrives). Despite the seemingly high cost, the stuff is beautiful and incredibly well crafted (hope that doesn't get me barred from the Nike Glasgow Run Club….honest, I love my Nike gear, and bought most of it new).
I am a guest speaker at the
National Active Travel Conference
in May, where I'll be speaking about how I have been encouraging others to walk, run and cycle more (funnily enough), and if I can continue losing weight (11lbs since I started a few weeks ago) I might even treat myself to a nice new (and not just to me) Ashmei jacket.
And although running has been my main activity of late, I wouldn't be a runner, if I wasn't a walker first and one of the key events in my life was signing up for the Paths For All
Step Count Challenge
which starts on Monday April 15th. It's another £5 event, and I've managed to recruit 154 walkers with each of them getting a nifty wee
Silva Pedometer
. I was honoured to be their National Step Count Champion last year and on top of everything else, I'm looking forward to leading my small army colleagues from work, again this year and retaining my Step Count Champion title.