Put your hands in the air, if you just don't care.
Care too much about paying inflated fees to get fit that is! Just last week, a feature in the National expressed how wealth (or even a lack of it was) was a barrier to participating in sports and physical activity. When wages (if you are lucky to have one) aren't increasing but the cost of everything else is, then it can be hard to justify spending £8.00 on a weekly class.
Thankfully, I have yet another one of my "get fit for free" posts to share with you.
Our good friends at The North Face on Buchanan Street (and nationwide) are following up on their free and popular NeverStopGlasgow trail runs with some NeverStopGlasgow fitness sessions.
Over the course of four weeks, you can attend any one (or all) of the Wednesday night NeverStopGlasgow training sessions that will help your prepare for the Great Scottish Outdoors. Or in my case, the Tough 10 Cancer Research event in Edinburgh (don't forget to enter my free competition for free entries).
Whether you are a skier, climber, runner or Munro bagger, having sufficient strength and endurance to get you across the finish line (or on top of that peak) is vital. Each session will be tailored to provide you with the physical skills to climb any mountain , even if that mountain is more of a hill and you are just out with your family in the local park.
And with only twelve weeks until Christmas (summer has officially gone), it might prepare you for climbing out of taxis in little black numbers or with sliding across dance floors in your smart suits. What will you train for?
NeverStopGlasgow is not only for elite Mountain Athletes.  It is open to all and everyone participating will come away  with increased fitness and hopefully increased confidence. In fact, if you attend all four weeks, starting this Wednesday at 6.15pm, you will come away with more than that.
The North Face will give everyone who attends four consecutive weeks a special gift from Mountain Athletics (a Thermoball jacket would be nice!), so don't delay and get signed up for what promises to be fun, challenging and ultimately rewarding.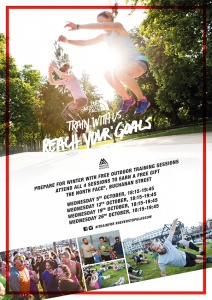 Just follow this link and sign up for free at a session near you. In addition to Glasgow, there will be events in Edinburgh, Newcastle. Liverpool, Leeds, Manchester, Birmingham and London  (obviously).  As a blogger and physical activity activist, I often complain that brands don't bring their events to Scotland. Can we show them that there is a demand and that Glasgow is NOT the sick man of Europe?  NeverStopGlasgow
Thanks to Ben Read Photography for the pictures and to North Face for putting on these sessions. I have not been paid to promote this.