It is no secret that as a fitness blogger and Ironman 2018 in training, my current fitness levels and weight often (ok, all of the time) make me feel like a fraud
Circumstances outwith my control have placed limitations on my training and my own insecurities and beliefs have prevented me from taking the necessary steps to keep myself active and to get me to a healthy weight.
I have had my reasons but I have also made excuses.
Fear of not being able has made me afraid to try. I have coasted along at a steady weight but not a healthy weight. Thanks to Lululemon Glasgow, I have a wardrobe of stylish and oh so comfortable xxl and xl clothing whie I have a partner who loves me unconditionally (on the condition that I do more housework).
I have also set goals too far in the future and too extreme for me to realistically achieve (especially given a recent development) and I have settled into a comfort zone that did not require me to sweat and I had forgotten how much I enjoyed being active. I had forgotten how to have fun.
Instead, I had become angry. I was angry at my own shortcomings and at the world, in general. I had attacked network marketing brands and I had challenged the lazy and fat shaming attitudes of sections of the media and the fitness industry. I had made an impact, but sadly I had also made myself extremely unhappy.
Then, one morning, the postman (it was a man, I saw him) delivered an envelope that reminded me of my goals.
To encourage, empower and to enable others to be healthier and happier. If I could not inspire myself, how could I inspire others?
The envelope contained my Level 2 Fitness Instructor certificate and it was the stimulus I needed. I got in touch with my mentor, John Hardy of Faster Global and agreed a plan for my Level 3. Faster will get me there, although I might need to take it slowly, as I have other pressing priorities.
Now, I am not sure if I will ever be a practising personal trainer, but with a Faster education, I do know that I will know how to move better and how to move others to move more. Whatever route I decide to pursue, I know that that they will be behind me.
But first, I have to get behind myself. I have to decide what my priorities are and make sacrifices and hard decisions.
My dream has been to be an Ironman, but recent events have made me question my ability, my resolve and my future. It also made me think about a blog post from an amazing blogger and triathlete that I follow.
Lucy at "PaddlePedalPace" is an experienced triathlete and her reasons why she wouldn't commit to an Ironman have resonated with me.
While others may be able to juggle their commitments, I need and want to spend more time with my family. I enjoy being both a triathlete and a try athlete and while I will still swim, cycle and and run, I am going to concentrate on having fun and enjoying shorter triathlons (for a while, at least).
My dream of being an Ironman in 2018 has once again been pushed to the back of my priorities and instead, I am simply going to focus on getting fit, losing weight (again) and enjoying life. And I'll always have this Ironman in my life.
With the weight of Ironman 2018 lifted, I have felt a renewed sense of purpose and renewed hunger. I  looked up my Top Tips for Losing Weight post and decided to make a few small changes.
The first was to move more. I made myself get up and get out for short runs, in virtual tandem with my blogging pal Helsbels. These are only 10 minute runs, but they are helping me to build confidence and are a good way to keep me moving.
With Pedal For Scotland looming, I have also been using my bike to transport me to medical appointments. These short runs and commutes alone will not undo the damage done but it was a start and slowly my determination has returned.
Downpours of rain have not dampened my spirits and the forgotten urge to move slowly, but surely has replaced my desire to do nothing.
I have also started to lift more. I use kettlebells, a pull up bar and my own body weight and I have started to feel stronger. My eyesight condition (still under investigation) means that I cannot not train too excessively, but I have made training a part of my life again.
My final act was to look at my diet and to make a change that I felt would be in my health's best long term interest.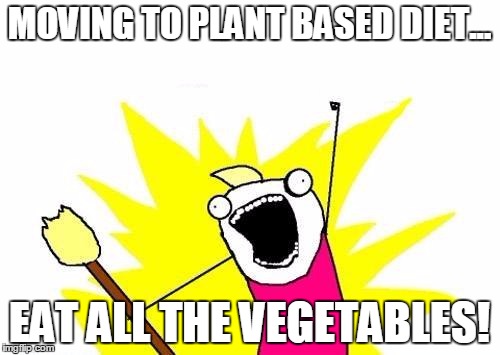 Yes, we decided to move to a more plant based diet with red and processed meat removed from our shopping list. We have replaced bacon with beans and and parma ham with pulses; we have changed to almond milk and we have moved from crisps and sweets to fruits and and nuts.
It has not been overly difficult and most shops have dairy free alternatives and eating out has not been a hardship. I especially enjoyed this vegan haggis at Gusto and Relish
Despite the vegan strawberry scone and almond milk matcha tea below, my weight is slowing falling and I am feeling more energetic. The combination of moving more, sleeping more, eating healthy fresh food and, trying to be more positive has had a tremendous impact on how I am feeling.
What changes can you make that will help you feel better in this journey we call life? What activities can you try and what are the barriers that you feel are stopping you from being healthier and happier?
SaveSave
SaveSave
SaveSave