I loved my time with Great Run.
I loved writing blogs for them. I loved launching Great Run Local in Scotland for them. I loved being part of the Great Run family. I especially loved their events and I will not lie..
I absolutely loved the VIP treatment I received at each event where I met my running heroes.
Even when I decided that I could no longer work with them, part of me still loved them.
However, on the 18th April 2017, my love affair with Great Run ended (hopefully, not for good).
This was the day that they announced Herbalife Nutrition as their new partner. For the uninitiated, Herbalife are a global nutrition company (salespeople in 94 countries) who sponsor and support some of the biggest names in sport (including Cristiano Ronaldo and inspirational triathlete Heather Jackson) ; they deliver free and often fun fitness classes via their community based Herbalife24 FitClubs and you'll find many local personal trainers extolling the benefits of their products.
So why am I not loving this? Why am I so disgusted by Great Run's decision to partner with them and why am I calling for them to end the Great Run and Herbalife partnership?
Well, for a start, Herbalife were recently fined $200,000,000 US for cheating almost 350,000 salespeople out of hundreds of millions of dollars with a high-pressure multi-level marketing scheme.
The chairwoman of a Federal Trade Commission inquiry stated that the only way to make money was for salespeople to buy its products in bulk, pressure new recruits into joining the company and then sell on those products to the new employees.
The vast majority of Herbalife salespeople make no money while the company made sales of $4,242,200,000 US in 2016.
We've all seen the Facebook posts from friends inviting us to share in their latest get rich, get ripped and get your life back scheme.
The truth is that very few get any of the above. The inconvenient truth alleged by the Federal Trade Commission is rather unsavoury:
 The small number of distributors who actually made money made it not by selling products to people who wanted the company's powders, pills, and potions, but rather by recruiting others to serve as distributors – and encouraging them to buy Herbalife products.
Then, we have the products themselves. Now, I am not a dietician or nutritionist but I know a few and I haven't met one who has ever supported the effectiveness or efficacy of Herbalife products. That's not to say that they are better or worse than any other supplement promising increased performance and recovery (yes, I am cynical of most of them).
If you look at the ingredient lists of any one of their products (not that you will find any on the actual Herbalife site!) you'll find such appetising ingredients as soy lecithin, carrageenan, copper gluconate and fructooligosaccharides ( I  picked on this because of its long name). There is nothing inherently wrong with any of these additives (despite some internet claims to the contrary) but they do belong to an ingredients list  that goes on and on and on….
Herbalife are widely known for their highly processed meal replacement products and although shakes do make for a quick and often tasty snack, they are not ideal for establishing sustainable and healthy eating behaviours.
Great Run are currently promoting a wonderful #RealRunners campaign. Just a pity that with this partnership they are not promoting real food.
No doubt, Great Run will argue that it is a commercial decision that will help them develop new events, help many new runners enjoy great races and support those at the end of a race. They might even state that they are only providing samples of their "Hyrdate" product in finishing goodie (or not so goodie) bags.
However, if you look at the press release, you'll see that Herbalife and Great Run plan to provide Great Run runners nutrition advice THROUGHOUT their training.
Having been involved with Great Run, I can envisage this involving blogs and lots of social media posts linking to Herbalife products. They have legitimised Herbalife and it wasn't long for the multi level marketers to start offering their services.
They use these prestigious partnerships to promote their products and they will not stop. They are already pitching powders and selling shakes. They are acting independently (well, they are independent distributors) and Herbalife should be giving them clear guidelines on how they use this partnership.  Otherwise, we may discover more people being pressured into purchases.
Great Run are to be praised for their efforts to encourage and inspire runners; they promote running as a sport for all and their events give plodders like me the opportunity to run alongside (or more like way behind) the elites of the sport. Great Run events are full of first timers and many of these will be exposed to Herbalife for the first time because of Great Run?
I genuinely think that they have made a huge mistake with this partnership and I am not alone.
Twitter has not been kind and the general feeling is that Great Run should end this partnership before it even starts (although I did hear that they were quick off the blocks with samples given out at the Great Edinburgh Run).
Emma, the phdrunner did not hide her disgust:
Zoe and Emma shared their lack of approval:
While Bethan was troubled:
Some even vowed not to register for any more Great Run events:
While Helsieboo took a step further:
We could all vow to boycott Great Run events, and many have, but I prefer Helen's' approach. People and charities gain so much from participating in Great Run events and I do believe that it is better to use dialogue and reason.
So, let's use social media to convince Great Run that this is an error. That no financial gain is worth alienating so many runners and tarnishing the Great Run brand and name. And what must Great Run's other partners think about this partnership?
So, if Great Run working with Herbalife angers you as much as it does us, then please go to the Great Run Petition at Change.org, sign up and urge Great Run to reconsider this partnership.
UPDATE
Since writing this blog and Helen starting the petition and writing her own brilliant BLOG, we have received over 1,200 signatures on the petition (thank you Ben Coomber for the support).
Herbalife have contacted me to correct inaccuracies in my blog (I am still waiting to hear what they actually are, but I will change them if need be) while I have also had messages from Herbalife members telling me that stupid fatties were responsible for their own failings; that without reading my blog that I was ill-informed and had not done any research and that only fools lost money.
That seems a little unfair on Tracy who bravely admitted on Facebook that she was lured in by the extravagant claims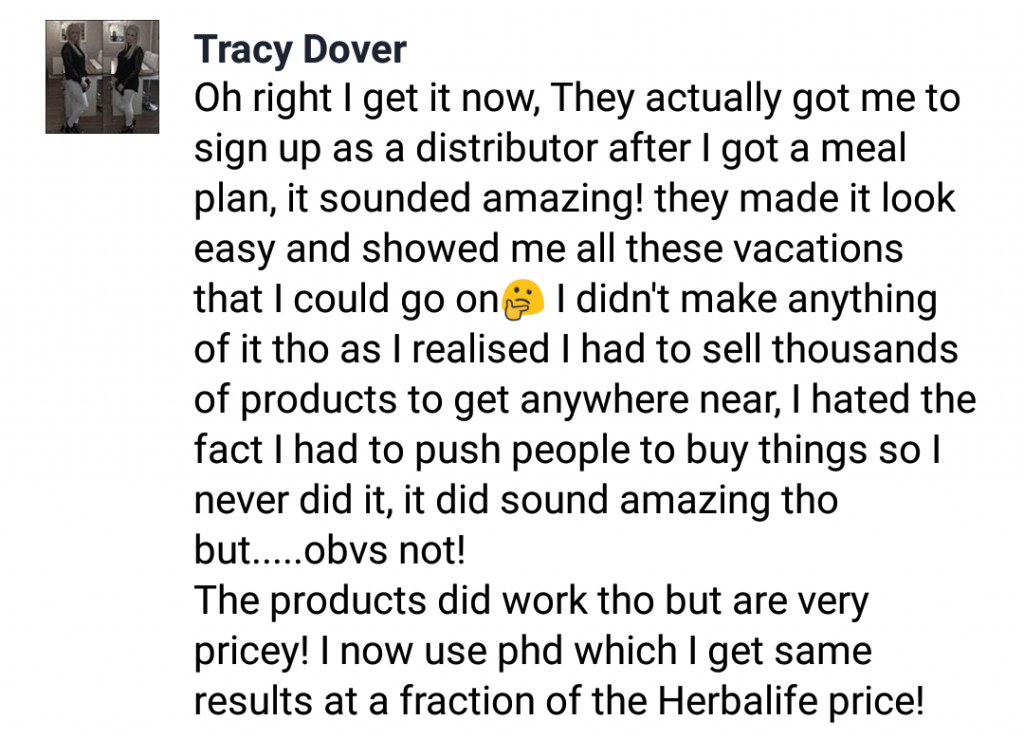 Since Sunday, I have been repeatedly told that rogue Herbalife distributors were a minority and that they unfairly blackened the Herbalife name. But, stories like this are not uncommon. How many of us know someone who has experienced similar and who like Tracy has been on the receiving end of 5am calls (I.E. harassment )?
Herbalife have admittedly made improvements to how they operate (following the FTC Inquiry, mind) and I am sure that they have removed many of the distributors who made life difficult (or even hell) for others, but the old behaviours still exist and Herbalife have much to do to convince the public that they are an ethical brand.
Great Run have also been disappointing in that they seem to be simply ignoring the dissent and hoping that it will go away.
That's why I ask you to share our blogs and the petition. With each new addition we show Great Run that #RealRunners (if you run, you are a real runner) do not approve of this partnership. People are cancelling hotel reservations and withdrawing from events. It is not going away.
We are not going away.
Together we can make Great Run think again
#EndGreatRunHerbalife