Get your diaries out and put big circles around Saturday 3rd and Sunday 4th September.
For on these days, there is an abundance of FREE activities on for you to try, in and around Glasgow.
Whether you want to go for a walk with the family or a cycle with the family, there is something for you. If you want to hone up on your running skills or even test your fitness, there's a way to get fit for free, this weekend.
There is an activity for you and activities for all.
Saturday 3rd's Free Activities
Walk About
From September 3rd -11th, the Ramblers are organising 100's of free walks across the UK as part of their Walk About festival.
20 of these walks will be in Balloch Park, this Saturday. There will also be games for the young and old and there will be talks from experienced Park Rangers and partners Cotswolds. There's even free refreshments later in the evening being served to those with tired legs.
Walking was the activity that started my huge weight loss and it is an activity that almost anyone can undertake. With short 15 minute walks to all day hill treks, there is a walk for almost every ability at Walk About at Balloch Park.
British Military Fitness
If your idea of fun is getting down and dirty, then this Saturday, British Military Fitness might be the workout for you. As the UK's biggest and best loved (their words) provider of outdoor bootcamps, you are rest assured to get no rest.
But fear not, British Millitary Fitness is actually another activity that is suitable for most and with free events on this Saturday at Kelvingrove Park for Westenders and at Rouken Glen Park for Southsiders, you might want to sign up as new recruit and take this opportunity to get fit for free.
Touch Rugby with the Centurions Touch Rugby Club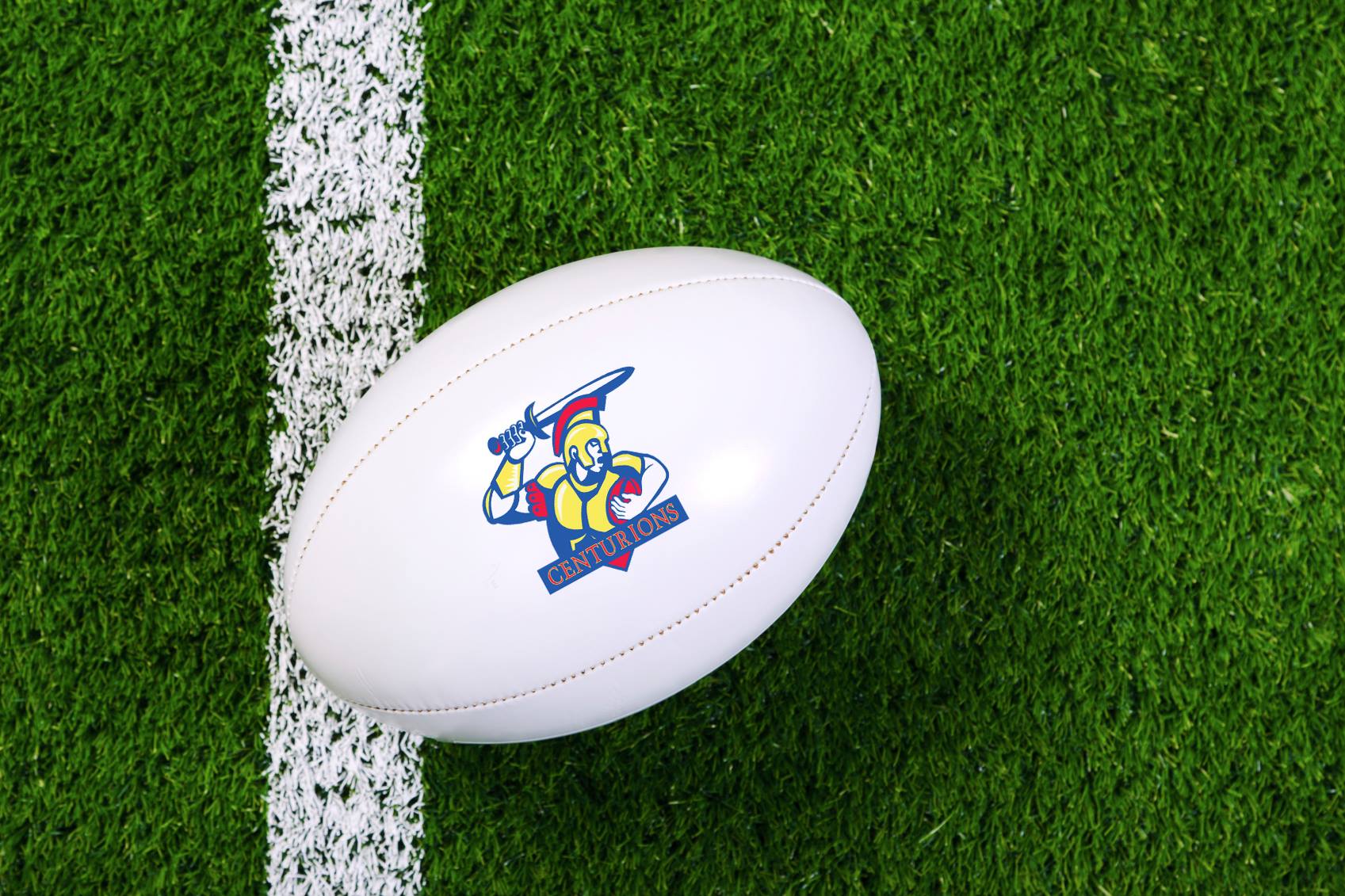 As a try-athlete, Rugby is one sport that I've yet to have a punt at. It's not that my face is my fortune, but that me knees are already in bits without having some 16 stone bearded bear maul me in a ruck. So, why haven't I though about getting in touch (that's enough puns, I think) with the guys and gals at Centurion Touch Rugby Club?
Touch Rugby is an increasingly growing sport that is fun, fast and non-contact. It is a great way to get fit and again, is open to all abilities and all sexes. This and every Saturday, you can head down to Victoria Park for a free introduction and training session.
Sunday 4th's Free Activities
Tour of Britain and Sky Ride
Th big events, for cyclist at least, this weekend are the Tour of Britain and Sky Ride Glasgow. The Tour of Britain is an opportunity to watch some of the finest riders in the world embark on this iconic race across Britain and it is also an opportunity to travel in their footsteps (or should that be  in wheel circumferences?). Once the the elite cyclists have departed, the route is opened up to the general public and everyone has the chance to cycle the traffic free 5KM route around the city centre. It is ideal for families and also novice cyclists.
And fear not if it has been a while since you last peddled and you are worried that your bike is not roadworthy. Every registered participant gets a free bike check from Halfords and a free Sky Ride Bib.  A lack a bike shouldn't be a deterrent either as you can hire, using the code 721972, a free bike from Nextbike (see, everything is free in this blog) for one hour. This should be plenty of time to take part in the fun.
Lululemon Athletica, S D Movement and Barbells, Beards and Barbers
Unfortunately, I will not be running in this year's Great Scottish Run due to my stubborn pride and my weak hide. My hip and my knee are on the mend, but neither a 10K or half marathon road race will do either of them any good.
However, I can still train and I can look for ways to help me return to running and make me a more efficient runner. If you've read my Chi Running blog, you'll appreciate that I am open to new ideas and that I am a huge fan of Lululemon Athletica. Not only for their uber expensive but oh so wonderful shorts and t-shirts, but for their innovative and community driven approach to helping their customers improve all aspects of their fitness.  Every weekend, you can find free yoga and cardio classes and they regularly put on special one off sessions.
This Sunday, they are spoiling you for choice. The splendid Stella Bertram and trainer Paul are  delivering a Barbells, Beards and Barbers session at Mohair in the Trongate. Beards are optional but you will learn just how useful and effective a barbell workout can be. Again, all abilities are welcome but spaces are limited. Sign up HERE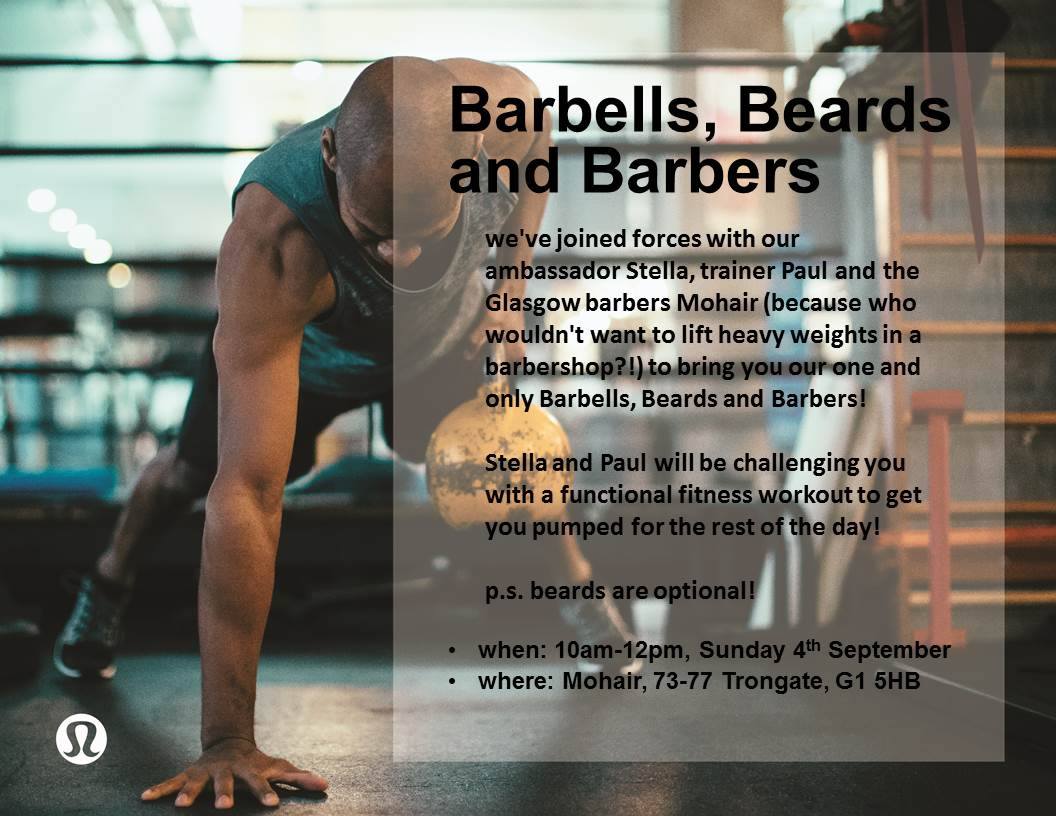 I am really interested in this one (especially as I also need a haircut and beard trim) , but unfortunately (or fortunately) I will be participating in Lululemon's main event (sorry Stella and Paul).

Run Glasgow Run with SD Movement.
This is the first of four weekly pre-Great Scottish Run Events at Lululemon. Each week, one of Glasgow's premier trainers will take you through a free (there's that word again) but invaluable training session that will help you run faster, longer and with less injuries.
I hear they have a money back guarantee
Week 1 is with Scott Devenney of SD Movement and even if he wasn't a personal friend (my disclaimer), I would have no hesitation in recommending this session. Scott's services are highly sought after and he includes mountain ultra marathon runners and er me as clients. He might not get you up a mountain, but he will get you up and over the Kingston Bridge at around mile 2 of the Great Scottish Run, using an array of tools and techniques that make him one of Glasgow's best movement coaches. You'll have fun and get fit for free.
(As an aside, Lululemon are also having a wee party this weekend, where you can see the latest range of clothing. Hopefully this means a sale soon)
So whatever your plans are this weekend, why not spend an hour or two trying out a free activity? It might be the first step to a healthier and happier you.