Go Ape have seemingly invited every blogger and their dog (now, that would be a blog) for a swinging time in their Aberfoyle location, set at the entrance to Queen Elizabeth Forest Park.
I've still to receive mine, but that didn't stop us from heading off to Queen Elizabeth Forest Park to experience the Great Scottish Outdoors.
For the uninitiated, that also means experiencing the Great Scottish Weather.
The forecast wasn't great, but we were keen to escape the house and the city  and after some gentle persuasion ("we're going out and that's final") the boys warmed up to the idea of going for a wee walk (regular readers might see a trend developing for whenever I use the phrase "wee walk").
As we set off, one thing that wasn't warming up, was the weather. It was a drookit day and after an hour's drive to Aberfoyle from Glasgow, our spirits were dampened a little. The sky was grey, verging on black and the heavens seemed keen to open up on us.
But hey, we had driven for an hour and there was a park to explore. But first, there was a cafe to explore. I fed the parking meter its £3 for a full day's parking and then moved on to feeding some others.
Teresa and the boys don't function properly without food, so we sheltered in the Lodge Forest Visitor Centre, to gather our thoughts, some maps and a few provisions.
At £18 for three hot drinks, two soft drinks and three cakes, it wasn't overly expensive and the boys seemed happy with their hot chocolates.
Suitably fed (and bribed) we all set off to explore Queen Elizabeth Forest Park
There are four recommended walks in the Queen Elizabeth Forest Park ranging from a gentle and accessible 1/2 mile route to a waterfall to 4 mile hikes up to viewpoints over the forests and land beyond. We decided to try and do at least two walks.
The waterfall walk was as easy as suggested and it is worth the lack of effort. The falls are pretty and photogenic while the boulders at its base are generally safe and fun for the kids to play on
We nearly didn't go much further on this walk due to a discovery that stopped us in our tracks.
Teresa discovered that lying on a hammock was the most relaxing thing ever, while the boys discovered the joy of swinging around on said hammocks.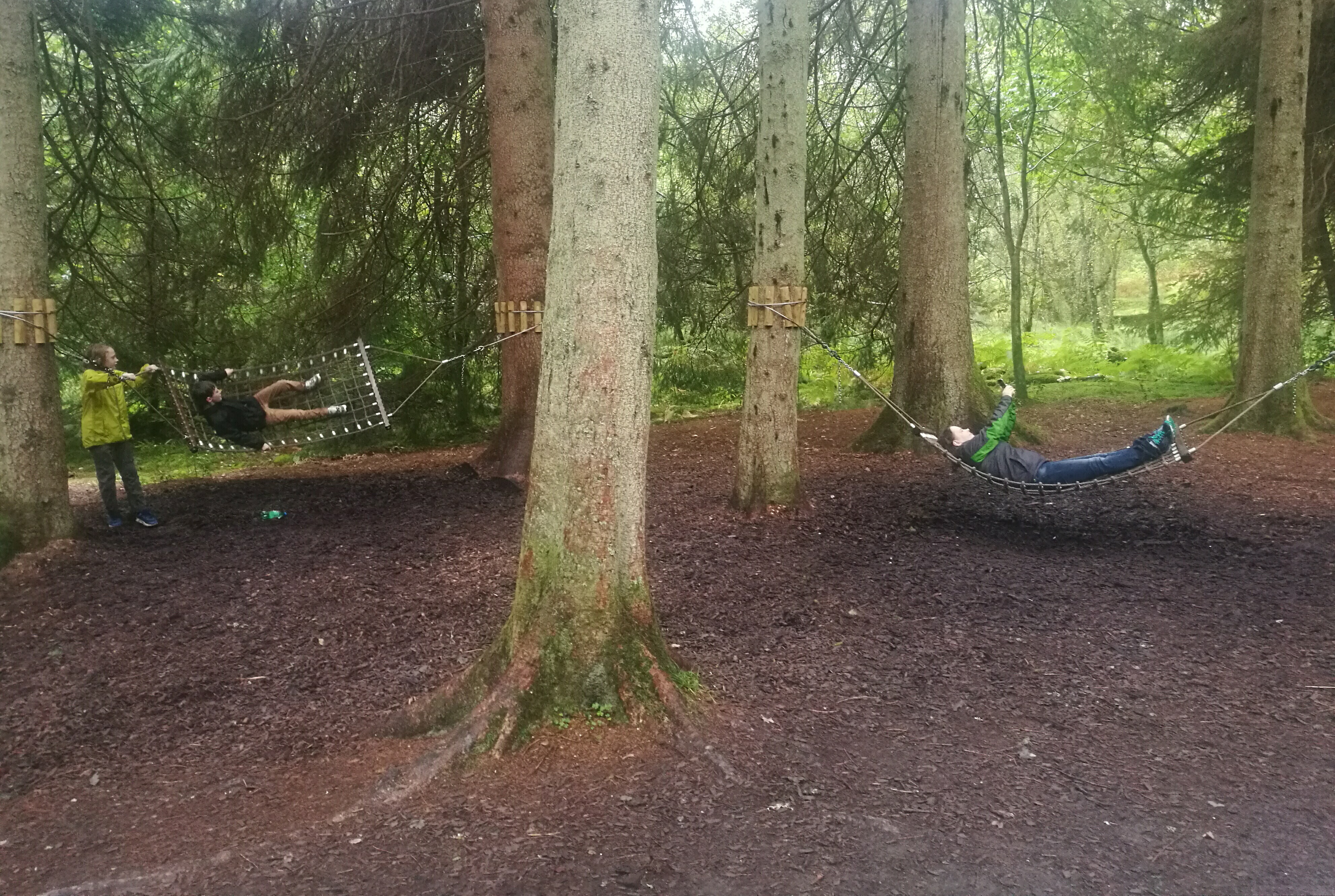 Set amongst the trees with the noise of the gurgling stream and the waterfall in the background, the swaying hammocks offered an opportunity to relax, empty my mind and empty my pockets as all my loose change fell onto the ground. This shattered the spell that the forest was putting me under and I managed to free myself from the enchanting comfort of the hammock.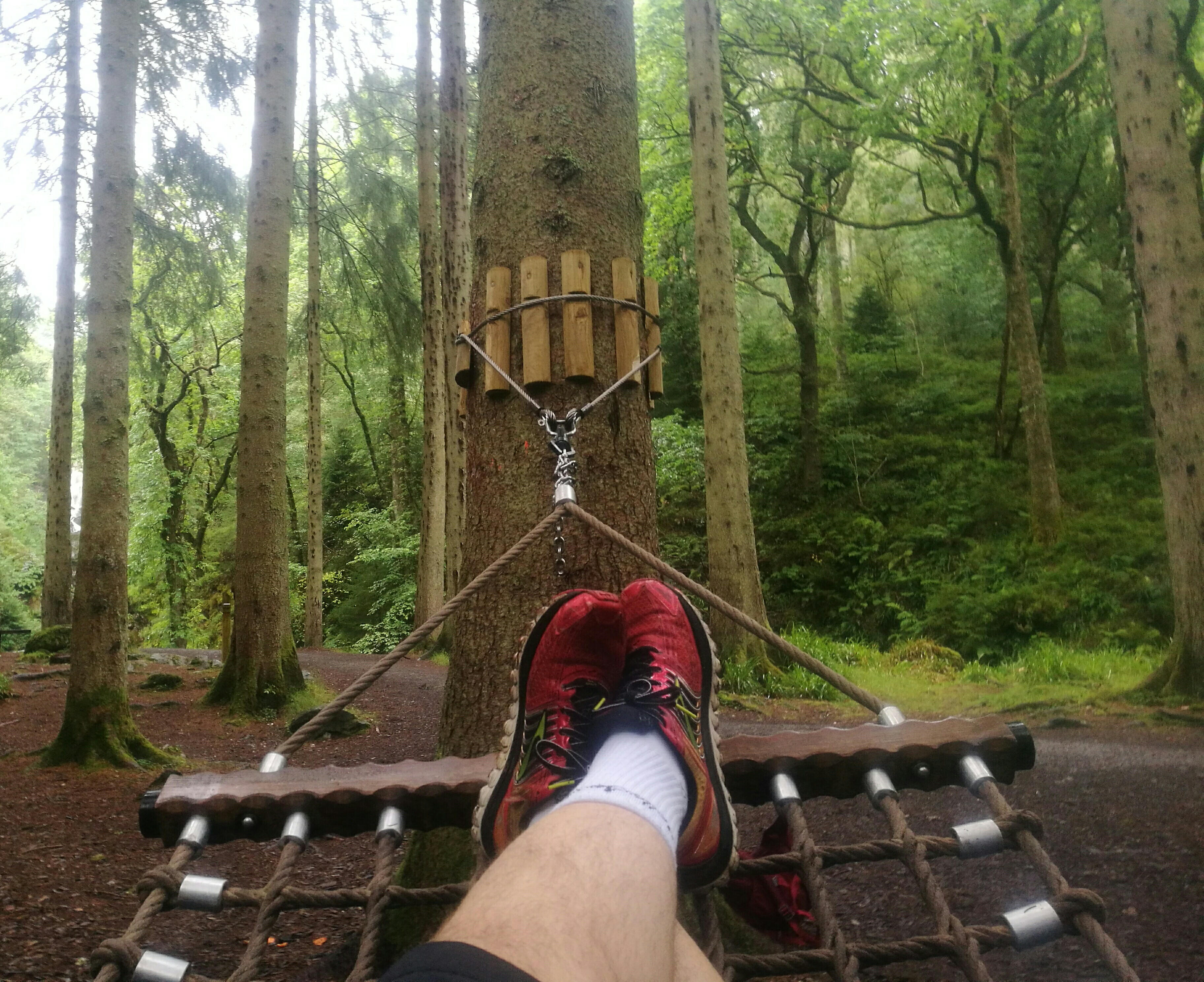 We then set off and crossed a wee bridge. This brought us out to a three way junction, with no apparent means of choosing which way to go. Unless, of course, you count the map in my pocket, but who looks at them? We could hear people monkeying around at Go Ape to our left and made the reasonable decision to go right.
After about 15 minutes of walking we came to another junction and the sight of a path leading up into the forest was enough to pique our interest. Teresa consulted the map and we recognised that we had stumbled across the Lime Craig Circuit. According to the information sheet, it was very steep in places .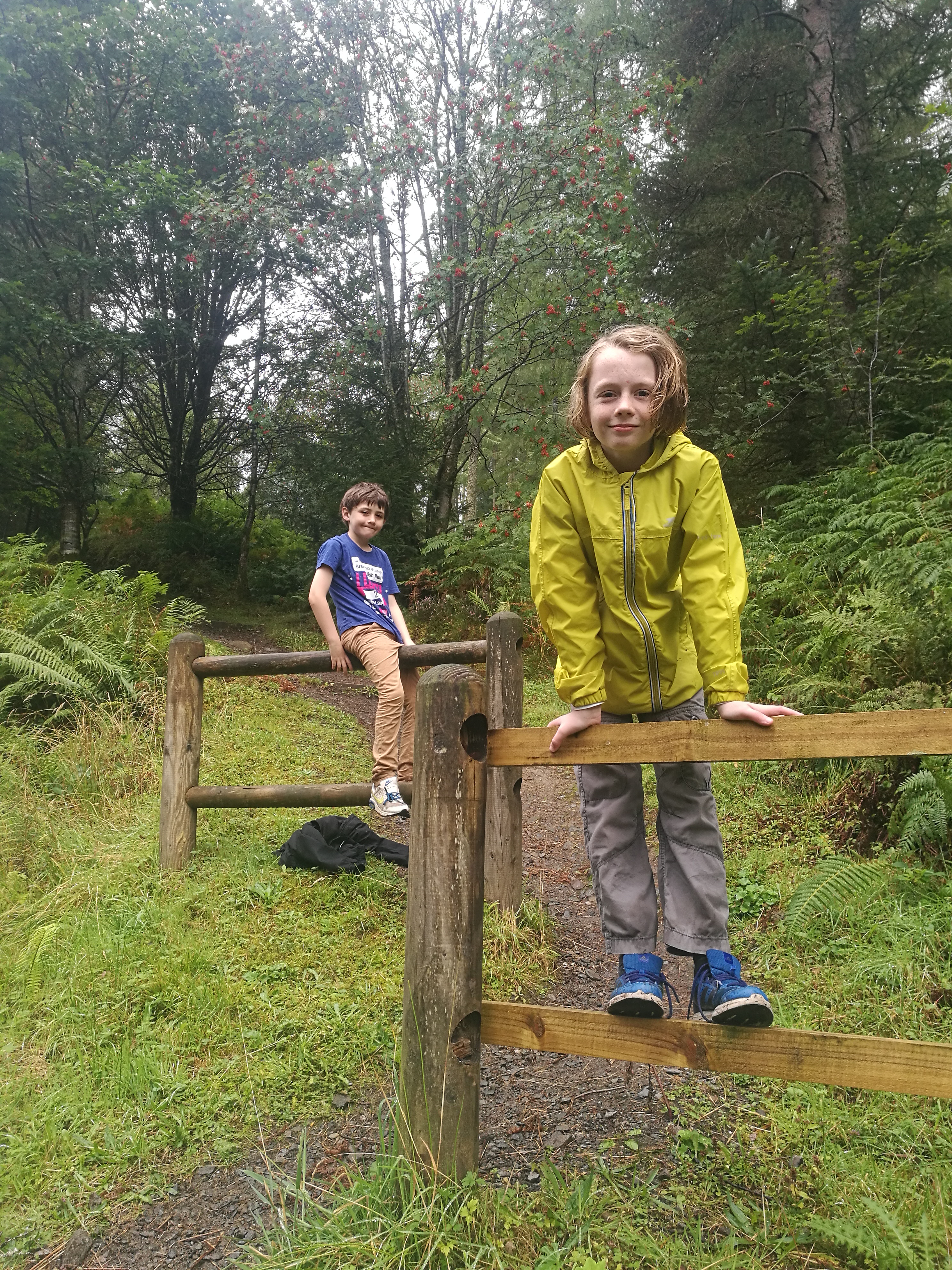 An understatement if I have ever read one.
This was a hard slog. More than once Teresa and I had to stop for breath and I know, from my regular checks on my Garmin, that my heart rate reached its peak as we tried to reach the peak of the hill we were on.  Danny, our family mountain goat (note: he isn't really a goat) tore up the hill, while wee Jack was responsible for some of the spikes in my heart rate.  Every 30 secs he would make a pass at overtaking me and I'm sorry, but there is only one walk leader in the family. Just as he sprinted level. I would burst into my own sprint. Loaded with extra baggage (our provisions and my belly) I just about kept him at bay until deciding that I needed to let him win once.
Not because I am good step-dad, but because he was killing me and because Jack is as stubborn  as a mule. Unless he is kept entertained or distracted, he realises that he is walking up a very big hill only to walk back down it again.
He is often apt to simply sit down when he has had enough
The walk through the pines, clouded in mist,and the heather, bracken and thistles that surrounded us on every side was postcard and poem pretty. For expats across the world, this is the Scotland they adore and the fact that there was virtually nobody else on the trail made it all the more tranquil. Even the occasional rain shower enhanced the tableau.
We could have walked all day in this, but after about 40 minutes we were faced with a decision.

Should we climb or should we retreat.
As a family, we like a challenge and after a careful consideration of the wet and slippery scree, we put our heads together and we decided that it would be a shame not to climb to the top and experience the vista that awaited us.
So off we set and it was tough. Ideally you want proper hiking shoes and even hiking poles for such a walk, but it can be completed without either. Even with the rain, it wasn't too muddy, but we had to climb carefully and I almost lost my footing on a couple of occasions. This isn't a walk for everyone but it was enjoyable and and there is always a sense of satisfaction from the thrill of reaching the top and reflecting on what you achieved
The top for us was only 1,009 feet high and to my pals who are Munro, Corbett and Graham baggers, this may seem like a small climb, but for us it was a fun and rewarding challenge. At the top you can see all the peaks and valleys around and it made for a pleasant spot to have our packed lunch.
Suitably rested and fed we headed down back towards the Information Centre on a slightly different and easier route. One that could be accessed my most and another example of us taking a right turn which turned out to be wrong. This was a gentle and peaceful descent. We were all in high spirits, despite the increasingly heavy rain, and we were all happy. There was no ruminating about busy schedules or homework and we all felt at peace.
Scotland is blessed with with stunning landscapes and in Forestry Commission parks, such as the Queen Elizabeth Forest Park, you can easily spend a day on trails and learn about the history of the land.
Inside the Lodge there is information on logging operations of old. We ended our day in Queen Elizabeth Forest Park learning about the LumberJills, an army of female loggers who helped Britain's war effort during WW2 by taking on responsibility for providing much needed timber. At the Queen Elizabeth Forest Park, they are remembered and honoured for their contribution and it it is a worthwhile addition to any visit to this magical part of the country.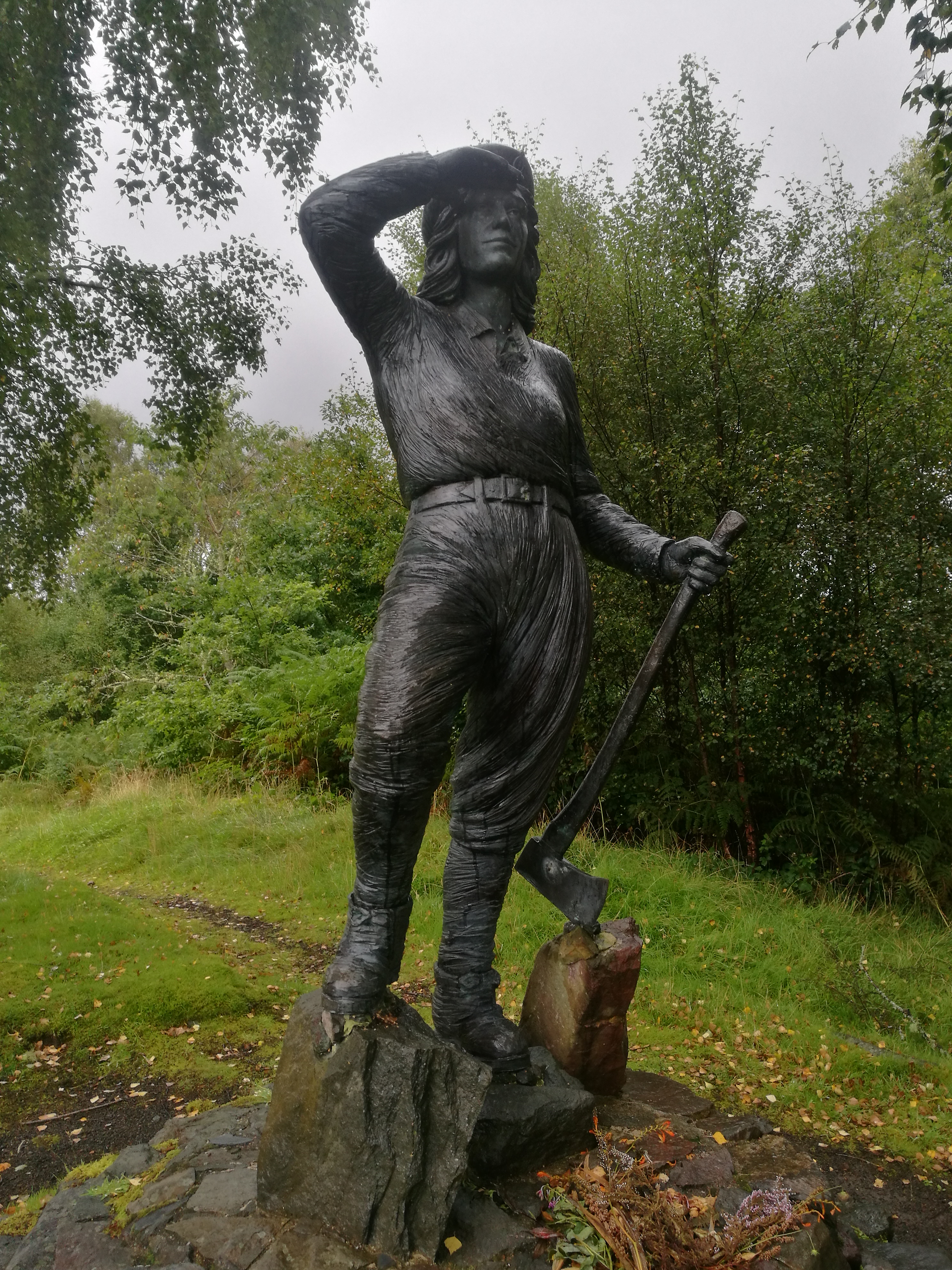 The Queen Elizabeth Forest Park is a one hour drive from Glasgow and once there you have the entire Trossachs National Park to explore. After a year of travelling extensively across the world, we are going to try and spend as many weekends walking and lunching in our own backyard.
What walks would you recommend for a family who enjoy quite but challenging walks within driving distance of Glasgow?