Smoking Kills. Obesity Kills and now, it seems that Sitting Kills.
That is right. Spend too much of your day sitting down and you might find yourself lying permanently prone sooner than you wish due to an array of unwelcome associated risks.
A 2008 study published in the American Journal of Epidemiology   concluded that the average person spends about 7.7 hours a day sitting down and this does lead to increased mortality rates, even for those who are otherwise relatively active.
In fact, according to a 2016 Meta- Analysis of over 1 million people, you need to exercise daily for 60-75 minutes at a moderate intensity to offset the risks of sitting too much.
Moderate intensity activity is brisk walking, gardening and slow cycling (under 10 miles an hour). Finding time to do that for at least an hour EVERY day can be challenging, so instead, can we sit less…..and stand more?
In addition to being a blogger, I am a civil servant and a Netflix fan, so my hours spent sitting add up, so when Sit-Stand.com emailed me to review their YO-YO Mini Sit-Stand Desk, I jumped out of my chair (see, instant result) with excitement (yes, I am sad, I know).
I have longed for one of these for some time (told you I was sad) and every year, my departmental staff survey return has suggested that we provide them for staff.
For using a sit stand desk brings many benefits
Firstly and most importantly, I am sitting less. At home, I am now spending at least two hours a day standing at my computer as I write, answer emails and watch TV shows whereas previously I would have been sitting on my backside.
I am also burning more calories (although it is debatable whether this is significant) as I not only stand, but I also wobble (and not just because I am fat, cheeky) on my Steppie Balance Board.
My Steppie allows me to shift my weight and move while standing and it helps reduce some of aches and pains that you might encounter when first using your Yo-Yo Sit Stand desk.
Rather than being hunched over a desk, I now find myself standing straighter, with less rounded shoulders and less curving of my back. I also feel that I am being more productive. Although I will watch some Netflix standing, I have noticed that I am using it to write blogs and answer emails without the distraction of social media. It might be my posture, but I am standing up and getting down to business.
And posture when using a standing desk is important. While my Yo Yo Sit Stand desk is really simple to put together and operate (two levers elevate it to your desired height) and requires no technical skills, if you are to make the most of it and make it a permanent change to how you use your computer, then there are some additional points to consider
And for this, I called in Posture Expert, Sarah-Jane Walls of The Yoga Pilates Place, for a Sit Stand Desk Guide. The first thing she advised was that it is essential that you do not simply transfer your bad sitting habits to your standing desk.
Sarah-Jane advised that you need to set up sit stand desk the same way you would set up any desk for proper ergonomics. Many office spaces have what they call "Hot desk" standing desks. The idea being you take your laptop over to the standing desk when you feel you want to stand – this doesn't work… it is simply not set up to your requirements and over time you would notice gripes with your neck and back amongst other areas.
Instead, ensure that the ergonomics of your desk and everything is within good reach, and the right height for you and that you get the balance right.
To get the most out of your sit to stand desk it is ideal to have a 3:1 standing to seated ratio. Meaning you stand 40 minutes, then sit for 20 minutes. With an adjustable workstation, like the Yo-Yo Mini, you can easily shift from sitting to standing and back again.
Don't forget that your body is made to move. Problems arise when we do not move and this equally applies to standing at a sit-stand desk.
With any standing desk, you need to consider your feet (if you have read my #feetforlife blogs, you will appreciate that I do have a slight foot fetish). Standing on a hard surface all day can cause strain to the lower limbs and in addition to my Steppie, I also have a very comfortable (especially in bare feet) Yo-Yo anti-fatigue mat. However, an ergonomic footpad is highly recommended if you are going to make the most of your new desk.
Place the footpad under your feet to cushion and support the soles of your feet. Now, bare feet are possibly not welcome in the workplace, so it is vital that you also consider your footwear – ideally supportive athletic shoes that do not restrict your feet and provide arch support. Now, I know that trainers might not be possible, but you really do need to consider what you are wearing especially if you are at a standing desk. If you are wearing high heels at your standing desk, then that is going to change the forces, and thus how your pelvis and body reacts, and tilts. You could consequently end up with lower back pain.
My Steppie has an optional soft top that encourages my feet to make simple but dynamic movements and Sarah Jane advises that you should also stretch the back of your legs or roll your feet on a small trigger point ball. The key is to keep moving while standing.
Sarah-Jane also stresses how important it is to regularly stretch throughout your time standing. Set posture reminders (could be on a post-it note) to make sure that you are moving your lower limbs and your pelvis, and that you are reminding yourself to do this on an hourly basis.
You could make it fun, and get your colleagues involved (we do team squats), and all just do it together. It does not need to be anything weird and wonderful, it is just about moving more and a Sit-Stand desk is a great step in the right direction.
To celebrate #ONYOURFEETDAY, Sit-Stand.com are offering you the opportunity to win a Yo-Yo desk of your own (yes, you REALLY do want one!).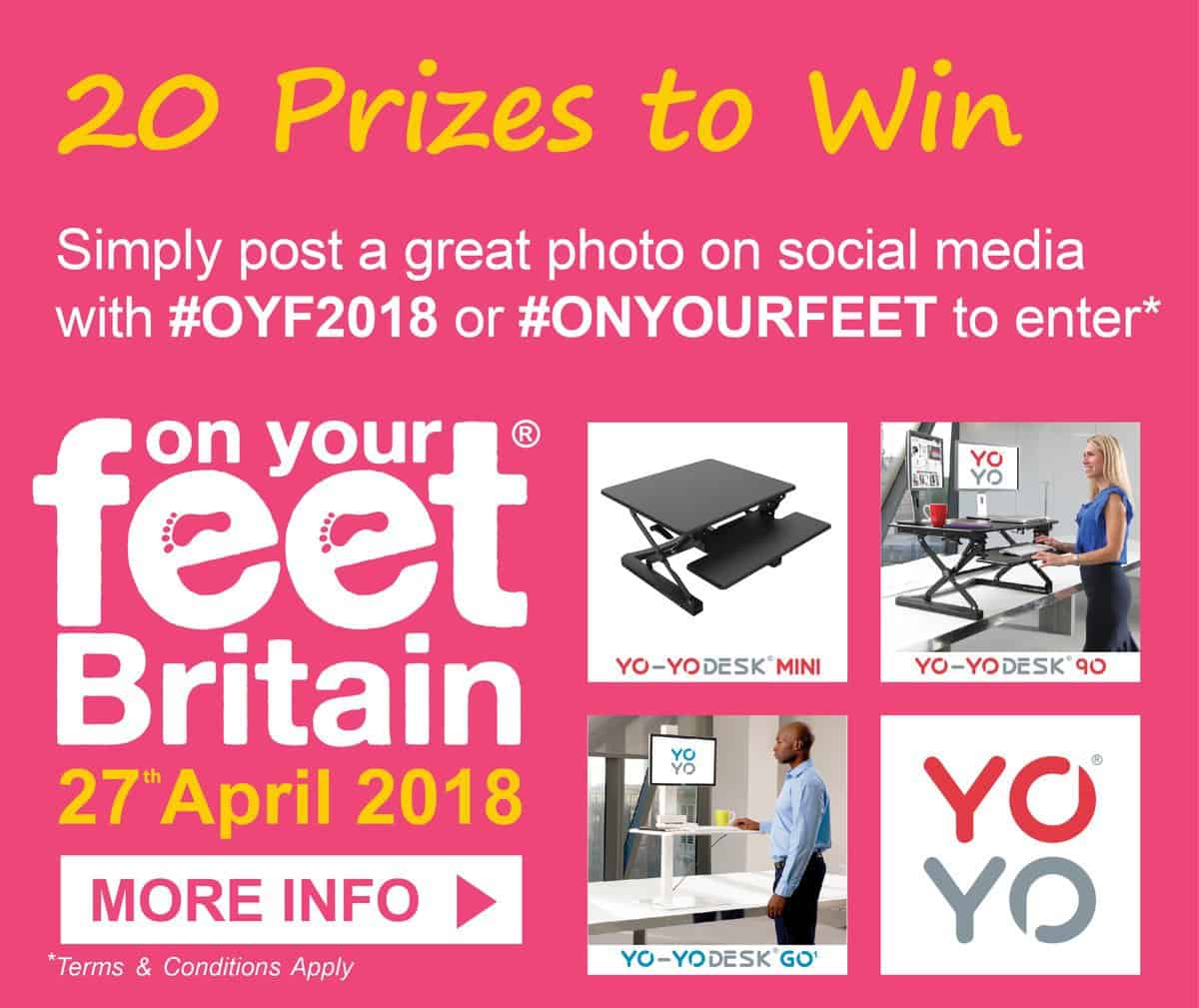 Disclaimer: I received a Yo Yo Sit Stand desk to review but my review is objective (I really do love me desk).
SaveSave
SaveSave
SaveSave