There are few things in life that excite me more than an empire biscuit (sad, but true).
Very few things.
As a physical activity champion, adviser, instructor and, blogger one of the things that does excite me is learning about new campaigns and initiatives that encourage and empower more to be active. Especially those that may feel (or be) excluded or who may believe (or be told) that taking part in a sport is not for them.
I love campaigns and initiatives that make sport accessible to the many.  Some that I support are national and commercial enterprises like the Decathlon Bloggers Community while others are non profit like Paths For All whose Step Count Challenge is always marked in my diary and which changed my life (still eating empire biscuits, mind).
Well, today I added another wonderful project to my list of loves.
Gartcairn Football Academy's partnership with Hope for Autism  (who already deliver the fantastic Hope 4 Sport ) and the  Scottish Football Association is a groundbreaking (and ground filling) initiative to encourage children with autism to take up the beautiful, but for some, the equally challenging team sport of football.
Across the UK, we are seeing many football clubs create special sensory rooms (often after fan led campaigns) to help fans with autism acclimatise to the experience of a noisy live match.
It all started at Sunderland's Stadium of Light in 2016 after a campaign by the the Shippey family, who have three autistic children and in February 2017, Airdrie FC's Excelsior Stadium became the first ground in Scotland to open a sensory room.
But not to be outdone by their neighbours,  Gartcairn Football Academy have taken this idea a step further and from November 10th children, aged 6 to 12 years old with autistic spectrum disorder, will be able to not only watch football but also participate in tailored (and FREE) football session in a supportive and fun environment that fully respects and understands the needs of autistic children. Older children will not be excluded and their taster session will be on November 17th.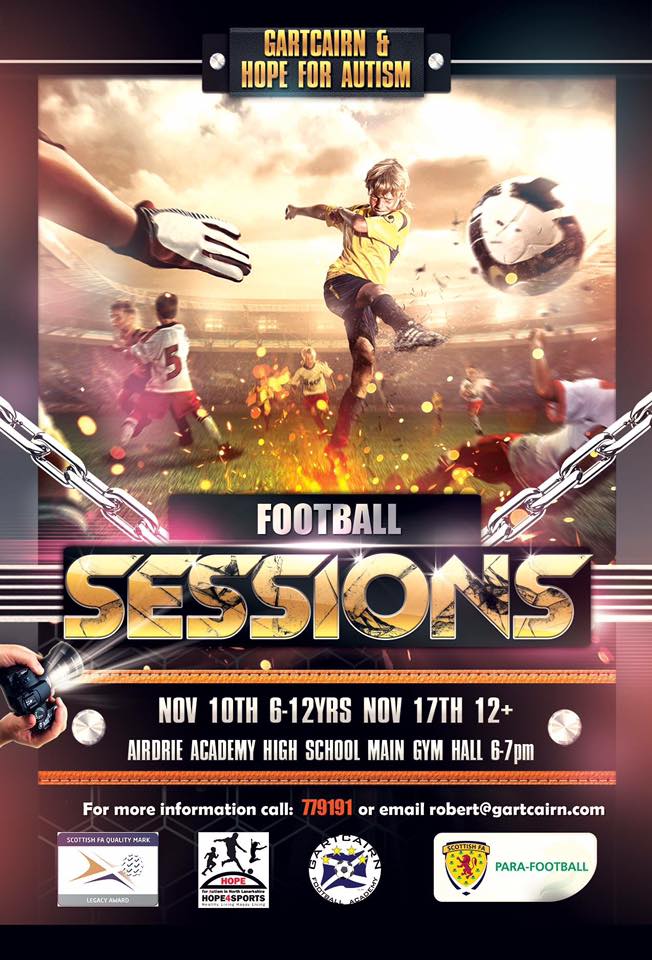 Gartcairn coaches will undertake Autism awareness courses while Hope for Autism staff (who will also be heavily involved in sessions) will learn what it takes to be a children's football coach (no, it will not be a 3 hour course on stomping and cursing on the sidelines while giving the referee abuse).
Gartcairn have a short but proud history (including being awarded a Scottish Football FA Quality Mark Legacy Award) of providing an inclusive sporting environment with no trials and no trophies policies. Their club ethos is that "those who want to play, shall play" and any child who wants to play football (or any other sport) plays, regardless of their age (with teams starting from Under 5), ability (even I would have got to play), sex (Gartcairn has a thriving set up for girls) and now sensory needs.
While the main launch is in January, you can book up for the November sessions now or find out more by calling the team at Hope for Autism on 01236 779181 or by emailing Gartcairn's Chairman Robert at robert@gartcairn.com
Normally, these taster sessions have a limit on places, but when Gartcairn say that anyone who wants to play will, they mean it. If you have a child who might benefit from or enjoy this, get in touch. No child shall be turned away and if more register than expected I have been reliably informed that they will consider the philosophy of Roy Scheider.
This initiative (and the entire Gartcairn set up- they are not stopping at football) is an example of how communities can come together and create opportunities not just for the few, but for the many.
those who want to play, shall play
If When this succeeds, it should become the template for clubs around the country. Much like the amazing Football Fans in Training, it has the potential not only to connect clubs with their fans but to use football as a means to improve and enrich lives.
To show why it is the Beautiful Game.
SaveSave
SaveSave
SaveSaveSaveSave
SaveSave
SaveSave
SaveSave
SaveSave
SaveSave