Right now, Glasgow is proudly hosting the Commonwealth Games (you may have noticed). Some of those talented enough to participate will leave with medals, the glory and tales to regale, while others will leave with broken dreams. The volunteers will take away the experience of contributing to a great Games and Glasgow will hopefully be left with increased exposure, fantastic facilities and opportunities for many of its residents. Everyone will have memories, there will be selfies galore and enough Clyde soft toys will be sold to make him rival a Hollywood A Lister in popularity. How big will his head be then?
In addition to buying Clyde, everyone can pick up an array of Games related merchandise from t-shirts, towels and trinkets to Glasgow 2014 Haggis (specially bred and hunted in the East End of Glasgow). The range of goods is almost as long as many of our journeys to work and the queues at Central Station during the Games (small price, surely?) and you can buy them all Here
However, I wanted to draw your attention to three souvenirs that I especially like.
We couldn't all be at the Opening Ceremony, be a Baton Bearer or get access to the Press Box, but we can all get a picture of ourselves, as if we were. This magic (it must be magic) is proved by the mages at Glasgow 2014 Photographs.
It's a great and fun way to capture your own special moment in special Green Screens located in the George Square and the Athletes Village retail stores. You can even upload your own photograph, give it a Games touch and instantly send it, as a postcard. All direct from your phone. As a self-confessed selfie fan, this is one App I might enjoy a little too much and you can find out more at Glasgow 2014 Photographs
From the simplicity of a selfie, we move on to the perfection of a Papercut. No, not those annoying, bloody and inexplicably painful little cuts we get, but beautifully crafted and limited edition Glasgow 2014 pieces of intricate decorative art that encapsulate the spirit, venues, sports and landmarks of host city Glasgow. At the first time of seeing this I was instantly taken by the creativity and artistry required to produce such an eye catching work of art.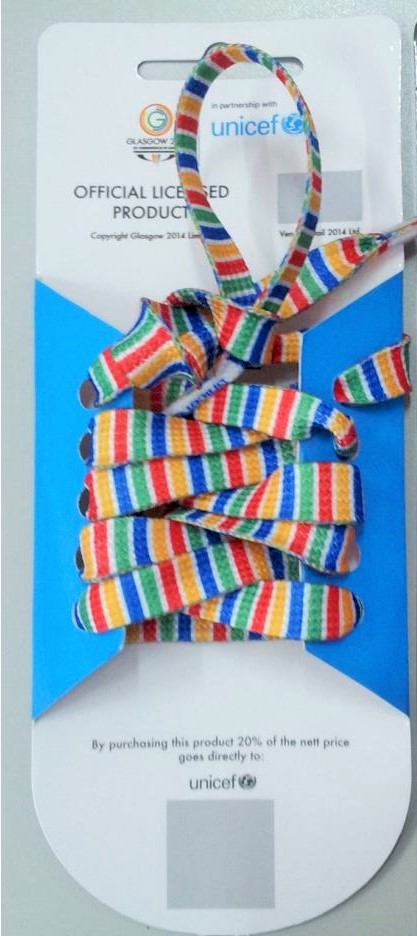 As a  self confessed running geek who adores his running chic, what better way to sport up my life, than to acquire a pair of the unicef shoe laces. Not only do I get to support the work of this charity, that provides humanitarian support to children and mothers, but I get to customise my shoes and add a little extra colour to my life. Glasgow 2014 has shown tremendous support to unicef and you can too, at UNICEF-Putting Children First
Whatever you pick up at Glasgow 2014, I hope you leave with smiles.
With just under one week of Glasgow 2014 left, it's time to start picking up some mementos. What has caught your eye and what has been your fondest memory of Glasgow 2014 that you will take away with you?
If I get twenty original responses, I'll compile them in a Team14 Blog AND donate £10  to unicef. If I get forty, I'll donate £25 (well seen I get paid on Thursday).