With our trip to the US delayed (hopefully not completely cancelled) by COVID-19, we decided to take advantage of the relaxation of lockdown rules by booking a staycation in the UK.
With one householder shielding, we were all effectively shielding so along with face masks and hand sanitisers, we also needed to look for a self catering lodge in ideally an area not too far from Glasgow.
Yorkshire has been on my partner's bucket list for as long as I have known her and, as a family, we all enjoy walking (or rather Teresa and I enjoy walking and the boys manage to mostly contain their displeasure). With its rolling hills, an abundance of waterfalls, charming market towns (each complete with its community pub) and its castles, abbeys and viaducts, Yorkshire ticked all the boxes (including being a producer of cheese and and ice cream) and the only question we had was why we had never made this short trip across the border before now?
Looking over the last few months, COVID-19 has made us look closer to home not just for holidays but also in our shopping with local shops and businesses now gaining more of our custom. Having suffered in spring, this summer presents the UK travel industry with an opportunity to showcase why a holiday in the UK is not only a reasonable substitute for oversea holidays but also something that we may want to consider post COVID-19.
It was time for a Yorkshire staycation.
Especially, if UK hospitality and the standard of accommodation we experienced in Yorkshire is anything to go by.
In search of a base from which to explore Yorksire, we had looked to Google with a search for the "best Yorkshire lodges" and one of the results caught our attention immediately.
It was Together Travel Co's Lodge 11 in Richmond. This would be our base for our Yorkshire staycation.
Set in 55 acres of picturesque countryside complete with trails, magical views and an army of rabbits welcoming our arrival, we approached our lodge in wonder. We are not unaccustomed to four and five star accommodation, but the owners have done a remarkable job in fitting these lodges to meet the needs of its residents.
Included in the price was a full compendium of streaming options including Sky, Netflix, Disney + Apple TV, Amazon Prime and Now TV all available for post walk relaxation for the boys. They were not completely overwhelmed by the availability of a PS3, a Wii and board games but I reckon these might be very popular with families with younger children.
Daniel, our oldest, was also impressed with the smart heating system which winter visitors might appreciate.
For us, the main attractions were the glass front and enclosed balcony (ideal for small children and pets), the internal log fire, the elevated private snug with its fire pit and the luxurious bedrooms and en-suites.
snug in bed and in around the fire pit
These came as two queens and one king with the latter also equipped with a smart TV. Soaps, shampoo and shower gels came courtesy of the White Company. Three en-suite bathrooms with showers is fantastic, but after days hiking in the Yorkshire Dales, we would have loved a bath or better still, a hot tub to relax in.
We did however enjoy sinking into the beds at night while Teresa had found her cosy spot in the corner of the main sitting area. She loved this seat and footrest so much, we now have them in our own home. We didn't steal this actual set, but instead turned them upside down and discovered that they were available at Next.
With a washer drier, ample fridge and freezer space, Bosch dishwasher and an oven and hob, the kitchen area and boot room made self catering stay a breeze. With COVID-19 still a threat, the owners had left a cleaning pack and had also left us enough firewood for both fires. We had brought our own, but there was ample provided and you are asked not to use wood not supplied by the owners
The market town of Richmond is only a 5 minute drive (or 30 minute walk) and it has many stores and takeaways to stock up your supplies. Special mention must go to the Shanghai City takeaway which produced one of the best salt and chilli chicken dishes I've ever eaten and which had a wonderfully strict and regimented social distancing service in place. I would have added a picture, but we devoured our dishes as soon as they were plated.
The weather while we visited was a mixture of sun, clouds and rain so we didn't use the snug as much as we had anticipated and the weather wasn't the only reason. The grounds of the lodges are well maintained but every time we ascended the steps to our snug, we had to carefully navigate our way through nettles which were threatening to invade the area. I feel bad mentioning this as the stay was otherwise perfect and keeping on top of the nettles must be difficult, even more so during lockdown, but it did sour the experience (for me at least in my shorts), especially with no doc leaves around to sooth my stings.
Also within the grounds are woodland trails, complete with benches at the peaks of the few short ascents, hides for the boys and great views across the meadows. Information on all the walks are available in the lodge. On our last day, we opted for the Richmond and River Swale walk. With two teenagers taking their time and two adults taking far too many pictures and enjoying the tranquility, this relatively flat walk took us about 1.5 hours.
Our walks and experiences in Yorkshire deserve their own blog, even if we were not overly adventurous but to summarise them, the people were friendly and helpful (even with social distancing) and the variety of activities and sights would satisfy most families. Brimham Rocks is especially awesome.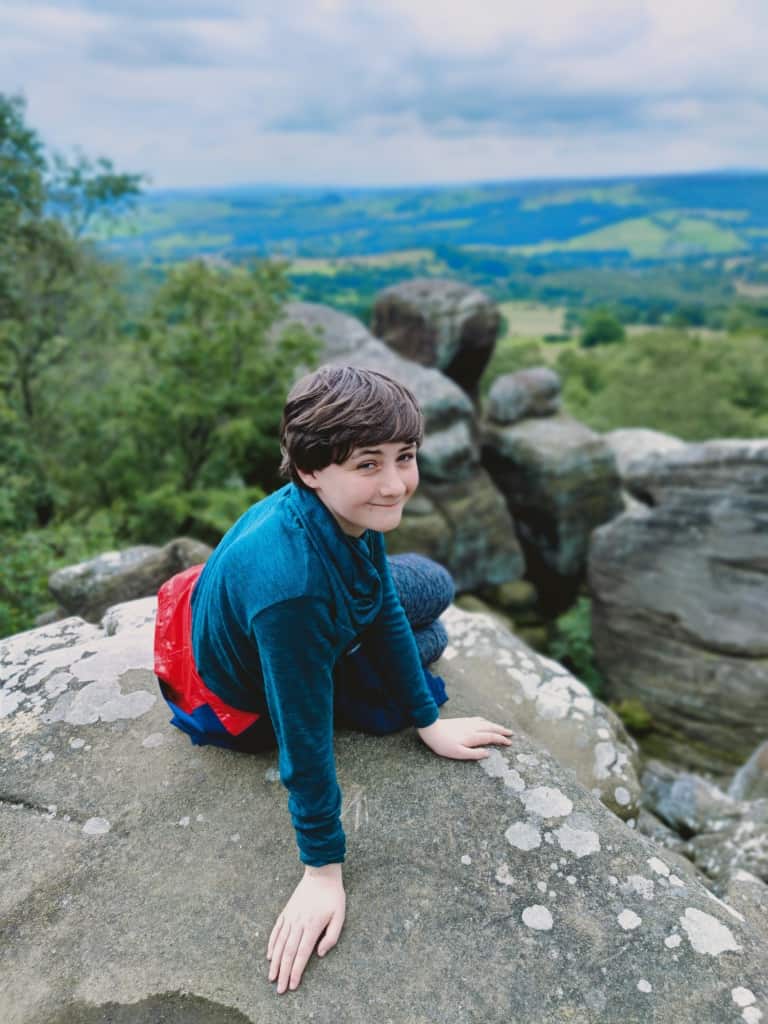 Having sampled Together Travel Co's offerings in Richmond, we have been looking at their other properties across the UK and would also have no hesitation in returning to this location.
While it sits in a secluded pasture surrounded by trees, it is close enough to Richmond to get supplies and you can travel in either direction to access more of Yorkshire. It is spacious with that floor to ceiling glass front allowing plenty of light and the indoor log fire was my personal favourite feature. It has every amenity that you could ever need…except for a bath and for that reason it scores:
9/10